Anouncements
Annual Memorial Day Parade - Saturday, May 23 at 11am
Posted May 19, 2015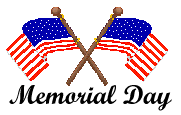 Join us for this Annual Parade to Honor those that have served our Country. ALL VETERANS ARE INVITED TO MARCH IN THE PARADE. Any group/organization that would like to be in the parade please call 517-627-1232. Parade lineup no later than 10am at Jackson St. The route begins at Jackson & Jefferson Streets, marching to the Library for the Flag Raising Ceremony and then to the bridge for the Gold Star Mothers Wreath Ceremony for Veterans. Parade proceeds to Oakwood Cemetery for the Tribute to All Veterans (approx 12pm). All are then invited for a FREE luncheon at The American Legion Post 48 located at 731 N. Clinton St. For further info call 517-627-1232.
Yankee Doodle Days - Crafters, Vendors & Parade Participants!
Posted April 17, 2015

Would you like to participate as a crafter or vendor? The location is JC Park during Kids Day on Saturday, June 20th from 12-3pm. Click on the FORMS tab above to register online! Join in the PARADE on Saturday, June 20th at 11am. Click on the "View Link" below for the Parade Registration Form.
View Link
Community Calender
Posted August 00, 0000

Did you know you can list your upcoming event on our calendar? Simply click on "Full Calendar" on the left of this page and submit your event.