Anouncements
Authors In the Garden - Thursday 7/31 with RICHARD BALDWIN
Posted July 21, 2014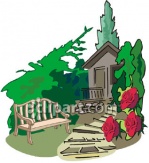 This week features "Richard Baldwin. This is the last in the Library Summer "Authors In the Garden Room Series" and is held in their historic meeting room, right on Jefferson Street, with the doors and windows open and plants inside to create an old fashioned front porch feel, but with air conditioning available and no bugs! 6 to 7 p.m. The city "Music in the Park" free program starts immediately following at 7:30 p.m. right across our parking lot in the "Bridge Street Plaza" with paid professional acts coming to perform from all over Michigan. Many patrons in years past have brought their lawn chairs to the authors reading and then carried them across the lot to the grassy plaza. Come join our authors in the garden room for refreshments, purchase books and have them signed!
The Farmers Market is OPEN!
Posted June 28, 2014

Saturday Mornings Open 9:00am-1:00pm May 17 through Oct. 25 Bridge Street Plaza Downtown, Grand Ledge
Community Calender
Posted August 00, 0000

Did you know you can list your upcoming event on our calendar? Simply click on "Full Calendar" on the left of this page and submit your event.